Overview
Pronation is the normal movement the foot makes to absorb the impact from walking or running. It occurs once the heel strikes the ground and the foot disperses the impact, stretching and flattening the arch as the foot rolls inward. Supination is the opposite motion of pronation. The foot supinates, or rolls on its outer edge, to help with stability as we walk or run. A reasonable amount of pronation is necessary for the foot to function properly. However, when the foot arch remains flat and the foot rolls inward too much one may have excessive pronation or overpronation. This medical condition can result from continually straining the feet and wearing footwear that lacks sufficient foot arch support.
Causes
Unless there is a severe, acute injury, overpronation develops as a gradual biomechanical distortion. Several factors contribute to developing overpronation, including tibialis posterior weakness, ligament weakness, excess weight, pes planus (flat foot), genu valgum (knock knees), subtalar eversion, or other biomechanical distortions in the foot or ankle. Tibialis posterior weakness is one of the primary factors leading to overpronation. Pronation primarily is controlled by the architecture of the foot and eccentric activation of the tibialis posterior. If the tibialis posterior is weak, the muscle cannot adequately slow the natural pronation cycle.
Symptoms
Because pronation is a twisting of the foot, all of the muscles and tendons which run from the leg and ankle into the foot will be twisted. In over-pronation, resulting laxity of the soft tissue structures of the foot and loosened joints cause the bones of the feet shift. When this occurs, the muscles which attach to these bones must also shift, or twist, in order to attach to these bones. The strongest and most important muscles that attach to our foot bones come from our lower leg. So, as these muscles course down the leg and across the ankle, they must twist to maintain their proper attachments in the foot. Injuries due to poor biomechanics and twisting of these muscles due to over-pronation include: shin splints, Achilles Tendonitis, generalized tendonitis, fatigue, muscle aches and pains, cramps, ankle sprains, and loss of muscular efficiency (reducing walking and running speed and endurance). Foot problems due to over-pronation include: bunions, heel spurs, plantar fasciitis, fallen and painful arches, hammer toes, and calluses.
Diagnosis
People who overpronate have flat feet or collapsed arches. You can tell whether you overpronate by wetting your feet and standing on a dry, flat surface. If your footprint looks complete, you probably overpronate. Another way to determine whether you have this condition is to simply look at your feet when you stand. If there is no arch on the innermost part of your sole, and it touches the floor, you likely overpronate. The only way to truly know for sure, however, is to be properly diagnosed by a foot and ankle specialist.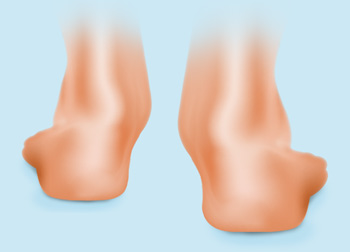 Non Surgical Treatment
No matter what the cause in your case, over pronation can be remedied in several ways. Those who are overweight should consider permanently losing weight to naturally alleviate pressure on the ligaments and heel of the foot. Also, you should consult a podiatrist to examine your posture and movement habits. You may be reinjuring yourself due to poor alignment without even knowing it. If you also have lower back problems, this could be a sign of over pronation as a result of misalignment.
Surgical Treatment
Hyperpronation can only be properly corrected by internally stabilizing the ankle bone on the hindfoot bones. Several options are available. Extra-Osseous TaloTarsal Stabilization (EOTTS) There are two types of EOTTS procedures. Both are minimally invasive with no cutting or screwing into bone, and therefore have relatively short recovery times. Both are fully reversible should complications arise, such as intolerance to the correction or prolonged pain. However, the risks/benefits and potential candidates vary. Subtalar Arthroereisis. An implant is pushed into the foot to block the excessive motion of the ankle bone. Generally only used in pediatric patients and in combination with other procedures, such as tendon lengthening. Reported removal rates vary from 38% - 100%, depending on manufacturer. HyProCure Implant. A stent is placed into a naturally occurring space between the ankle bone and the heel bone/midfoot bone. The stent realigns the surfaces of the bones, allowing normal joint function. Generally tolerated in both pediatric and adult patients, with or without adjunct soft tissue procedures. Reported removal rates, published in scientific journals vary from 1%-6%.